Update 7/17/2020
PAYMENT FOR SECOND QUARTER IS DUE 7/20/2020 – we do not offer online payment on our website at this time.
Our office will be closed July 20-24, 2020. The office will be open on Monday July 26, 2020 at 8:00 am.
If you have a payment, please leave it in our drop box on the exterior of the building behind the big, black mailbox. We cannot take any cash payments at this time.
If you have any questions regarding your bill, or payments, please call KJ TAX at (262) 514-3800 ext. 103 (Angela)
* FOR SEWER PERMITS PLEASE CALL LOUIS FALCONE AT (262)332-3312*
RATE INCREASE PROPOSAL TOWN OF WATERFORD SANITARY DISTRICT NO.1
From $ 131.69 to $144.80
As our sewer system is advancing to the 40-year period, critical updates need to be done. Projects including replacing old degraded pipes and lift stations are being replaced with systems designed to last longer than the original installation. We work hard to control costs associated with repairs and maintenance.
These rising costs have also been due to the use of personal wipes and non-flushable items being put down the toilet and drains, causing damage to lift station pumps, grinder pumps and sewer lines. Even though an item may be small enough to be flushed, that doesn't mean it should be. These items can clog pipes and sewer laterals, which can be costly to homeowners as well. Please do not flush ANYTHING other than water, toilet paper and human waste. Customers who cause damage to the sewer system, including dumping any prohibited materials into the system, are subject to fines, penalties and cost of repairs per WSD ordinances.
Attention credit card customers
Implementation of a credit card convenience fee
Due to the cost of credit card processing fees, we have implemented a convenience fee to all credit card payments including: auto pay, in office and telephone payments. This will go into effect for the April first quarter billing. This fee will not affect cash or check payments. The fee will be 4% of the total amount being paid by credit card. For example for auto pay customers the total quarterly payment will be $ 144.80 + 5.80 = $150.60.
There is no charge for automatic withdrawal from checking or saving accounts. To sign up, download our form here and send it back to our office

NOTICE: Sanitary District Meetings:
Regular Commission meetings will be held on the second Wednesday of each month at 8:00 a.m. in the town hall meeting room.
About the District:
The Waterford Sanitary District (WSD) is an independent governmental body that provides for the collection and transmittal of wastewater for the District residents in the Town of Waterford.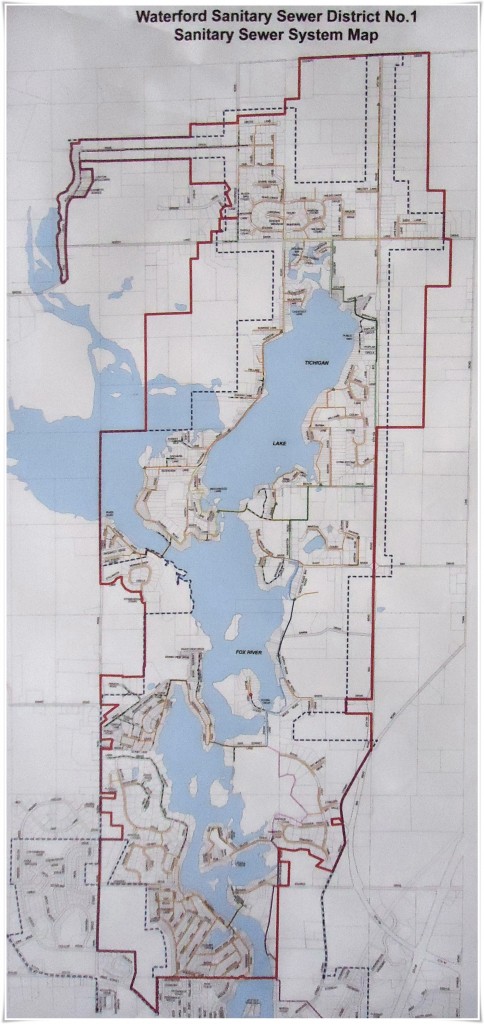 Sewer System:
The District's sewer system became operational on August 1, 1988. At that time we served approximately 1,100 customers. Today we serve over 1,925 homes and businesses. Several sewer extensions have been added over the years, primarily in new subdivisions. All of these extensions were added by developers or property owners at no cost to the District.
Sewer Rates:
Quarterly bills carry a rate of $48.27 per month for each single family home. Each quarterly bill is $144.80 for each resident that includes those that have district owned grinder pumps. For our customers that have privately owned grinder pumps, the quarterly billing rate is $135.32 (45.11 per month) Commercial businesses can chose between multiple user fees or have a meter and pay according to actual usage.
The sewer charges are based on costs for operation and maintenance of the system, treatment costs paid to Western Racine County Sewerage District, and capital expenditures.
Billing Policy:
Our quarterly invoices will come on a regular sized 8 x 11 inch sheet of paper with a tear-off payment ticket attached at the bottom of the page. Theses bills come to you in the mail in a regular sized envelope.
Bills are mailed at the end of each quarter, on or about the first of April, July, October, and January, and are due on the 20th of the respective month. Payments must be received or postmarked by the due date or a 5% penalty will be added to the bill. In addition, any amount that is not paid in full by November 1st of any year is subject to a 10% surcharge and, if not paid by November 15th of that year, the total amount is then placed on the property tax bill for collection.
IF YOU SELL YOUR HOME PLEASE CALL OUR OFFICE TO PROVIDE US WITH THE NEW OWNER'S NAME. THAT WILL ELIMINATE THE CONFUSION OF BILLS BEING FORWARDED AND THE NEW OWNER NOT RECEIVING THEM. WE NEED YOUR HELP TO KEEP THIS INFORMATION CURRENT! RACINE COUNTY DOES NOT NOTIFY OUR OFFICE OF ANY PROPERTY TRANSFERS.
Our Municipal Building:
Since remodeling the Sanitary District owned municipal building in 2000, it has allowed all municipal departments the room to grow along with our community. The Sanitary District rents the portion of its building used by the town to the town for $1.00/year on a 99-year lease and extends the use of the meeting room to community based organizations at no charge.
Disclaimer: This is not an official posting site of the Town of Waterford Sanitary District.
Just a reminder that this website is not updated every day. It is NOT an official posting site and is for information only. There may be times when the site is not updated. We make every attempt to do so when time allows. You can always contact the office with any questions you may have.