Town of Waterford Sanitary District #1
About the District:
The Waterford Sanitary District (WSD) is an independent governmental body that provides for the collection and transmittal of wastewater for the District residents in the Town of Waterford.
Sewer System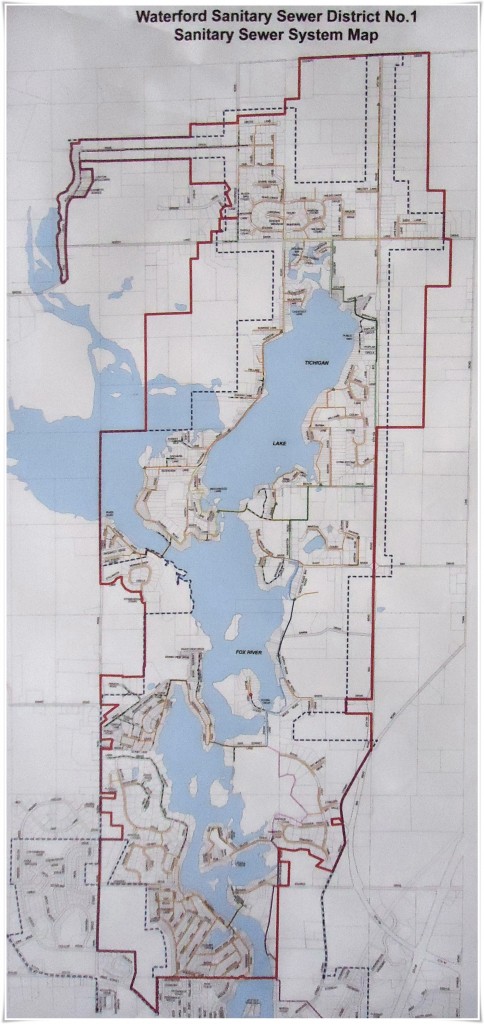 :
The District's sewer system became operational on August 1, 1988.  At that time we served approximately 1,100 customers.  Today we serve over 1,925 homes and businesses.  Several sewer extensions have been added over the years, primarily in new subdivisions.  All of these extensions were added by developers or property owners at no cost to the District.
Sewer Rates:
Quarterly bills carry a rate of  $39.50 per month for each single family home.  Commercial businesses can chose between multiple user fees or have a meter and pay according to actual usage.
The sewer charges are based on costs for operation and maintenance of the system, treatment costs paid to Western Racine County Sewerage District, and capital expenditures.
Billing Policy:
Our billing cards are green and white in color, stating "return bottom portion with payment". The bottom of the cards are perforated from the upper larger section.  Please remember to tear off and remit this portion to ensure your payment is not misapplied or delayed.  Also, writing your account number on your check is appreciated.
Bills are mailed at the end of each quarter, on or about the end of March, June, September, and December, and are due on the 20th of the proceeding month.  In our efforts to keep costs down, the District is now offering residents to view their bills online and opt out of receiving paper bills, saving us the cost of printing and postage.  You will receive an email each time your bill is ready.  You can also choose to continue receiving a paper bill in addition to viewing your bill online.  Simply use the "View/Pay Bill Online" tab on our website, select the "View Bill Online" link, register and your bill and amount due will be available.  You can now also pay online or by phone.  We accept credit/debit card payments as well as checking and saving account payments.  Payments can be be made using the "View/Pay Bill Online" tab on our website, selecting the "Make a Payment" link and following the instructions or call toll-free to make a payment.  Have your bill handy to provide you District account number.  You will not be required to pay a fee for using these services.  Other options for making a payment are to arrange to have your payment deducted from your checking or savings account by enrolling in ACH, pay in person during regular business hours, by mail, or by placing your payment in the Sanitary District drop box located outside and to the right of the main entrance to the Sanitary District/Town Hall.
Payments must be received or postmarked by the due date or a 5% penalty will be added to the bill.  In addition, any amount that is not paid in full by November 1st of any year is subject to a 10% surcharge and, if not paid by November 15th, the total amount is then placed on the property tax bill for collection.
IF YOU SELL YOUR HOME PLEASE CALL OUR OFFICE TO PROVIDE US WITH THE NEW OWNER'S NAME.  THAT WILL ELIMINATE THE CONFUSION OF BILLS BEING FORWARDED AND THE NEW OWNER NOT RECEIVING THEM.  WE NEED YOUR HELP TO KEEP THIS INFORMATION CURRENT!
Our Municipal Building:
Since remodeling the Sanitary District owned municipal building in 2000, it has allowed all municipal departments the room to grow along with our community.  The Sanitary District rents the portion of its building used by the town to the town for $1.00/year on a 99-year lease and extends the use of the meeting room to  community based organizations at no charge.
Disclaimer:  This is not an official posting site of the Town of Waterford Sanitary District.
Just a reminder that this website is not updated every day.  It is NOT an official posting site and is for information only.  There may be times when the site is not updated.  We make every attempt to do so when time allows.  You can always contact the office with any questions you may have.